Today I'm going to share with you, my thoughts on a new language curriculum we are using Prima Latina written by Leigh Lowe and published by Memoria Press. Which is known for amazing products. Let's dig in...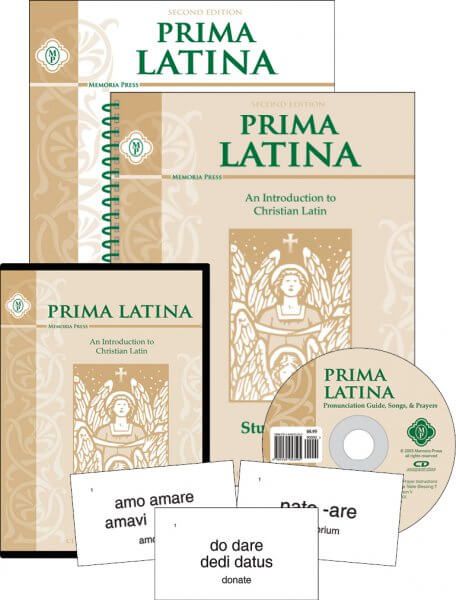 We've been thinking about adding in a foreign language program for a while. After doing some digging around on the interwebs and homeschooling facebook groups, I quickly found out that the best first language for children to learn is Latin. Here's a great article explaining why Latin is SO important, especially if you are a classical homeschooler. Naturally, Prima Latina came up for recommendations from moms but I was really excited when I saw it was going to be a review for the 2017 Homeschool Review Crew. We were so ready to start when it finally arrived.
Prima Latina is an introduction to Christian Latin. It is designed for early elementary age students k-5th grades. They recommend starting when the student is reading well but Riley my Kindergartener is doing this alongside her big brother who is in 4th grade. They suggest one lesson a week but we've managed to get 2 in some weeks because we use a "loop" system (which I will have a video about soon!) Here's an overview of what comes with the Prima Latina Complete Set:
1. The DVDs- I was so worried that I, with my strong southern accent, wasn't going to be able to teach my kids any foreign language correctly so you can imagine my sigh of relief when I found out that Leigh Lowe actually trached all the lessons on the DVDs. They have a great format and Leigh is so great at explaining all the things your kids will say "wait, what?" to. If you like the slides keep in mind you can view and print them HERE.
2. The Flash Cards- These little things are lifesavers. They are for both the Prima Latina and

Latina Christina so you will not use all of them in this set. They are English on one side and Latin on the other. These really helped my kiddos memorize the words and they even made up a few games with them.
3. The Teachers Manual- This is a very well put together manual. It features an overview so you can learn some of the rules your students will be taught, student goals, and five tests. It also follows the exact format of the student book, which I love, because it makes it so easy for me to find what I need.
4. The Student Book- We found it very easy to read and work out of. It wasn't too jumbled up or busy. We appreciate that. They were able to complete the work fairly easy. The first few lessons were a bit more difficult because its such a learning curve to go from English to another language.
5. The Pronunciation CD- This was another great tool which was a must have. We would reference this several times throughout the week. It was convenient to pop it in the car too when we were on the go. It features songs, prayers, and the pronunciation guide.
All in all, we are enjoy this program. Learning an entirely new language is hard for anyone but Leigh makes it fun ad easy. I love that it is a Christan curriculum.
We love the DVD teaching. Just like Math U See, The kids can somewhat take lead themselves with this.
Mason will probably gain more overall than Riley but we can always get another student book when she's ready to dig deeper and she will already have a basic understanding of the program.

Follow Memoria Press On Social Media:
Find more reviews for Memoria Press products by clicking the photo below: